Parking Enforcement
Pay for parking tickets online go to  http://upperdarby.rmcpay.com/ and to pay for parking lot spots online go to upperdarby.org/pa
rking  

Online payments are subject to a $3.00 convenience fee.

The Parking Enforcement Department is responsible for the installation, maintenance, and repairs of all parking meters and kiosks throughout Upper Darby Township and for the collection of parking fees and enforcement of all laws and ordinances pertaining to illegally parked vehicles. Ultimately our goal is to provide safe, convenient and affordable parking for the Township community; to make our users contact with parking as pleasant as possible; and to operate as efficiently and fiscally responsibly.

The department also issues, files and prosecutes all citations for unpaid parking tickets with the District Justice. For all parking violations paid within seven (7) days the fine is $25.00. If paid between eight (8) days and thirty (30) days the fine is $35.00. Failure to comply will result in a citation being filed with the District Justice for failure to pay and will result in a summons and/or warrant of arrest. If found guilty of violating a parking ordinance the fine is $50.00 plus costs of prosecution and Township's attorney fees.

Parking Enforcement also maintains/operates municipal parking lots; two of which are public pay lots.  The rates for our municipal parking lot on Garrett Rd is $1 hourly, $7 daily, or $70 for a monthly spot. In this lot there are three solar powered kiosks that accept coins, bills and credit cards for payments. The rates for our municipal parking lot on West Chester Pike is $5 daily or $65 for a monthly spot.

The department enforces parking regulations as defined in Ordinance 3065 which restricts parking in certain designated areas for the purpose of street sweeping.

Overall Parking Enforcement is responsible for the following:
Provide for the installation, maintenance, and repair of all parking meters and kiosks;
Provide for the collection of all fees which are deposited in parking meters and of all fines paid for violation of parking ordinances;
Enforce all ordinances and laws pertaining to illegally parked vehicles;
Keep and maintain all records of parking tickets;
Issue citations for all unpaid parking tickets;
File and prosecute all citations for unpaid parking tickets with the District Court;
Keep and maintain records of all money collected from parking tickets, meter rentals, and parking lot rental spaces; and
Deposit with the Finance Department all money collected from parking rentals and fines paid for violation of parking ordinances.
The Parking Enforcement Department is committed to providing residents with courteous and effective customer service, while operating efficiently and fiscally responsible. Our mission statement is "To provide residents, visitors, and businesses with a safe, accessible & modernized parking experience throughout the township."
---
Director of Parking Enforcement: Sekela Coles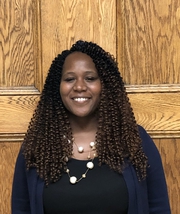 Sekela Mungai Coles within her first year was able to transform the Upper Darby Parking Enforcement Department. Under her direction, the department's systems have been modernized. Coles streamlined the parking payment processes, allowing residents to pay for parking through a safe, user-friendly app as opposed to only meters, as well as take online payment methods when paying parking fines and reserving municipal parking lot spaces. In addition, she organized the enforcement operations with mapping, planning, and scheduling to focus on enforcement of all safety violations throughout the township. Coles administered the parking lot renovation project in municipal Lot 1 that brought the first kiosks and electric vehicle charging stations to Upper Darby Township in 2021. She has also put forth a plan to bring residential permit parking to the township.
Coles served as an Upper Darby Township Councilwoman for 6 years (2014-2020), before heading the Parking Enforcement Department in January 2020. On Council she chaired the Public Health & Environmental Affairs Committee, served on the Public Safety Committee and created initiatives such as the Black History Month Poetry Contest, Spring Food Drives and Domestic Violence Awareness events.  She currently serves as the Board Secretary for the Domestic Abuse Project of Delaware County and the Board President for the Friends of Sellers Hall. 
Coles attended Lincoln University and received a degree in Finance & Banking. She then received her MBA from Penn State University and went on to complete a PhD in Public Policy & Administration at Walden University. Coles taught Business courses at Harcum College for ten years and was the winner of a professional development pitch contest on promoting learning engagement for a diverse student body which provided her the opportunity to present on that topic to other faculty members. Prior to that Coles worked as an Assistant Manager for Citifinancial, the consumer finance subsidiary of Citigroup. Originally from the Overbrook area of Philadelphia, Coles has resided in Upper Darby for the past two decades with her son and daughter, a college sophomore and a high school senior.
---