Environmental Advisory Committee
The purpose of the Upper Darby Environmental Advisory Committee is to advise township leadership on environmental matters.
This committee is made up of Upper Darby residents with environmental knowledge and a strong desire to conserve and protect our local natural resources. The purpose of this committee is to encourage government policies and community practices that impact the environment.
The Environmental Advisory Committee holds many different environmentally focused events for the residents of Upper Darby.
To learn more about EAC events go to https://www.facebook.com/UDEAC
To inquire about vacancies on the Environmental Advisory Committee contact mayor@upperdarby.org
Members: 
Bonnie Hallam - Chair

Charmaine Butler - Member
Christen Cooper - Member
Sharon Elwell - Member
Norman Janes - Member
Peggy Kowalski - Member
Stephen Lockard - Member
Jeff Million - Member
The UD Environmental Advisory Committee understands that we cannot just protect our natural environment without protecting our economic and cultural environments.  We are an interconnected system and what impacts one thing, impacts another.  We call this sustainability and recognize that as we make decisions in Upper Darby Township on all aspects of governance, whether writing permits, providing services including such things as trash, policing, fire protection, etc., purchasing products, selecting vendors, providing programs, spending our tax dollars, and so much more, we are impacting our natural, economic and cultural environments all at the same time.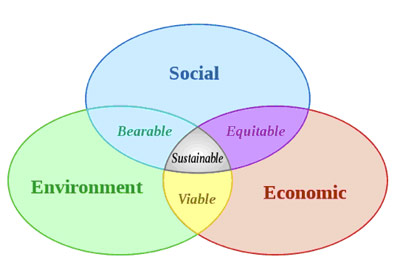 The UD EAC has three areas of focus that we hope will make Upper Darby, cleaner, greener and more beautiful!
Zero Waste: 
 The impossible dream!  What if you never had to pay a rubbish and sewer fee again!  What if we never had to worry about pollution of our air and water by incinerators and landfills?  What if we never had to see littered plastic bottles and bags on our sidewalks, streets and parks?  Although Zero Waste is probably an impossible dream, the question is, as the folks from the Delaware County Solid Waste Management 10 year Plan Advisory Committee put it, "If you are not for Zero Waste, how much waste are you for? " Our efforts towards Zero Waste can take us pretty far...maybe not to Zero, but one of our goals as an EAC is to promote efforts to refuse, reduce, reuse (including rot!), and recycle such as 
You can see our Zero Waste recommendations to the Upper Darby Township Administration here.  As residents, we can all work towards these Zero Waste efforts together!
Conservation:  Conservation means to use less of something, so it is related to Zero Waste...but instead of focusing on solid waste, we focus on energy, water and land conservation and use.  Using less energy, using renewable energy, conserving open space, ensuring Darby Creek is clean and does not flood our communities, etc. and supporting policies in our township that help us do that, is another way that we all can work together to make Upper Darby cleaner, greener and more beautiful.  Our township is moving the needle on this in the right direction by 
promoting solar energy.  Upper Darby is currently installing solar panels on the Municipal Building and the Watkins Center.  You can see other places in UD using solar as a clean, renewable energy source here. If you are interested in getting residential solar, there are many companies in the area you can check out or contact the Solarize Delco group for information. Two of our EAC members have or will have solar installations so you can ask them about it too.

promoting clean and renewable energy by having our Community Center, now in development, the first LEED certified municipal building in Upper Darby! 

conserving green spaces and improving trails and parks.  If you don't know about Upper Darby Parks and trails, we encourage you to put on your walking shoes and feel like you walked out of this world!  Check out Gillespie Park where the Tree Tenders of Upper Darby, the Shade Tree Commission, the UD EAC, the Eastern Delaware County Stormwater Collaborative, Delaware Riverkeeper Network and the Upper Darby Township Parks and Facilities Departments, through a TreeVitalize Riparian Restoration grant, recently planted over 300 trees and 100 shrubs to protect our residents from flooding and to provide a safe, beautiful and peaceful place for us to enjoy. 
The UD EAC encourages residents in Upper Darby to partner with the Township in efforts such as those mentioned above and others. The UD EAC has members who sit on the Delco Solid Waste Management 10 year Plan Advisory Committee, the Darby-Cobbs Watershed Resiliency Program, the Tree Tenders of Upper Darby, Friends of UD Rain Gardens and Friends of Upper Darby Trails.  You can volunteer to be part of any of these efforts.  Learning about why and how to conserve energy  in your household with this video is an important first step. Save money and save energy and the environment! See recommendations from the new Delco Sustainability Hub.  
Beautification:  A beautiful community means a lot of things.  Clean streets, curb appeal for homes, maintaining commercial and residential property, green and open space, trees and other features that make us feel good, are healthy for us and build community.  An example of this the work of the Bywood Community Association which recently received a $50,000 grant to beautify their community through the PA Department of Community and Economic Development.  To increase their efforts, they recently partnered with the Montdelco Habitat for Humanity in a Rock the Block in Bywood where they planted trees and a community garden.  They have developed a comprehensive plan to Keep Bywood Beautiful by creating a corps of neighbors taking care of each other and their neighborhood.  This is a model for other communities in Upper Darby and we encourage community members in other communities to follow this example....just the way Stonehurst did recently in creating the Stonehurst Community Association!  There are other community associations in Upper Darby that you can find out about here as well as a guide to starting a neighborhood organization.