Danyelle Blackwell, 4th District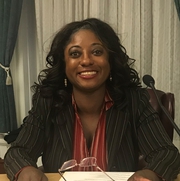 Biography
Councilwoman Danyelle Blackwell is currently earning her Doctorate in Health care Administration. She earned her MBA from the University of Phoenix and BBA in International Business from Temple University. She serves as:
Co-chair of the Public Safety and Event Planning Committees
Member of the Leisure Service Committee
Member of Law And Government & Rules and Procedures Committee
Member of the Finance and Appropriates Committee
She is a licensed Accident and Health, Life and Fixed Annuities Pennsylvania agent. She currently works for United Health care and runs a small business. She has been a housing and job advocate for decades. She serves on the Philadelphia Unemployment Project (PUP) as a Board member. She has been a homeowner in Upper Darby 4th District since 2005. She loves Upper Darby!
---
District 4
Click on map for full sized view.
Not sure which Council District you live in? Use our interactive map to find out.
---
Contact
Phone: (267) 478-2474
Email: dblackwellcouncil@upperdarby.org
---
Committees
Public Safety
Parks and Recreation
Public Health and Environmental Affairs, Chair
Community Engagement
Cultural Competency