Matt Silva, Council At Large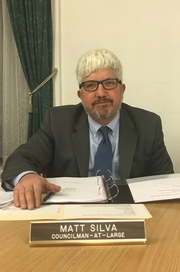 Biograph
Councilor Matt Silva has served on Upper Darby Township Council since being appointed on January 6th, 2020.  He serves as an At-Large Councilor and represents all of Upper Darby Township.  Councilor Silva lives with his wife and daughter in the Oakview section of Drexel Hill.  He works as a Port Engineer at a tugboat company headquartered in Delaware County.  
Councilor Silva is focused on enhancing our parks and playgrounds, for these items not only enhance the quality of residents' lives directly, but also foster a sense of community.   He is often present at events at the township, from clean ups to town halls, and he frequently visits residents where they are to be as accessible as possible.  
---
District
Matt Silva is a Councilperson-at-large
Click for full size view.
 
---
Contact
Phone: (610)803-7219
Email: SilvaUDCouncil@gmail.com
---
Committees
Parks and Recreation, Chair
Law and Government & Rules and Procedures, Chair
Public Health and Environmental Affairs
Finance and Appropriations
Cultural Competency