Special Events
Upper Darby is a vibrant community that is home to a wide array of events throughout the year. From holiday celebrations and community information sessions to festivals and identity theft protection events, there is always something going on in our community.
We believe that special events are an important part of building a happy, thriving, and fun community. They bring people together and provide an opportunity for our residents to come together and celebrate all that makes Upper Darby a great place to live.
Our calendar of events is diverse and includes something for everyone. From traditional holiday celebrations like our Independence Day Fireworks and Annual Tree Lighting to informative community events such as our Mental Health & Wellness Expo, Pet Expo, and National Night Out, we strive to offer a wide range of events that will appeal to people of all ages and interests.
We are committed to building strong relationships with our community, and special events are a key part of that effort. By bringing people together and providing opportunities for fun and celebration, we hope to foster a sense of community and belonging in Upper Darby.
We hope that you will join us at one of our many special events throughout the year. We look forward to seeing you there!
Upper Darby Juneteenth 
Upper Darby Township will celebrate Juneteenth offering guided walks of 3 sites on the Upper Darby Underground Railroad trail beginning at Sellers Library.   A local expert will be at each "stop" on the trail to discuss the role of the site in the Underground Railroad and the fight to end slavery and answer questions.  
Hoodland, Howard House and Sellers Hall are all located within walking distance of Sellers Library where attendees will meet.  Attendees will be able to select between a "short" tour of about one-half mile lasting about an hour and a "long" tour of two miles lasting about two hours.   Tours will run continuously between 9 and 10 am.   
Tours are free and children are welcome. 
The Upper Darby Underground Railroad Trail includes 7 historic stops over a course of 4.5 miles.  From Garrett House to Friends Cemetery, it highlights the significant role Upper Darby played in supporting the Underground Railroad in Pennsylvania.  
The Tour is sponsored by Mayor Barbarann Keffer and the Township Recreation Committee with the support of local historians.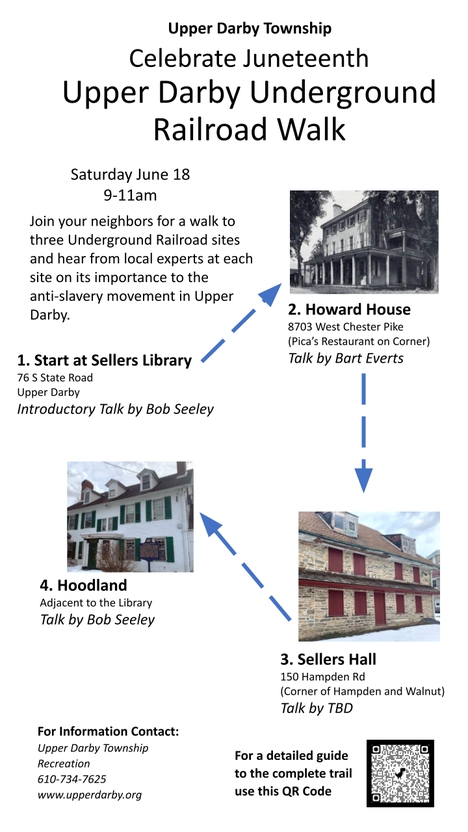 Arbor Day
Arbor Day is a holiday in which individuals and groups are encouraged to plant trees.
The next Arbor Day will take place on Friday, April 26th 2024. 
Upper Darby Identity Theft Protection Event
This event combines Shred-it Day and Drug Take back day.
This event allows Upper Darby Township residents to bring their paper and documents to be securely shredded. A large shredding truck is brought in and residents encouraged to bring their paper items to be shredded securely on site. Drug Takeback provides an opportunity for the public to surrender expired, unwanted, or unused pharmaceutical controlled substances and other medications for destruction. These drugs are a potential source of supply for illegal use and an unacceptable risk to public health and safety.
Each day, approximately, 2,500 teens use prescription drugs to get high for the first time according to the Partnership for a Drug Free America. Studies show that a majority of abused prescription drugs are obtained from family and friends, including the home medicine cabinet.
Details about Drug Take-Back:
The program is anonymous.
Prescription and over the counter solid dosage medications, i.e. tablets and capsules accepted.
Intra-venous solutions, injectables, liquids and needles will not be accepted.
Illicit substances such as marijuana or methamphetamine are not a part of this initiative.
Saturday, October 22, 2022 at Upper Darby High School 9am-12pm.
For more information, view our newsletter here.
National Night Out
During National Night Out, neighborhoods across the nation host block parties, festivals, parades, cookouts and other various community events with safety demonstrations, seminars, youth events, visits from emergency personnel and exhibits.
Created by the National Association of Town Watch, the nation's premiere non-profit crime prevention organization dedicated to the development and promotion of crime prevention in communities across the nation, National Night Out is organized by a network of law enforcement agencies, neighborhood watch groups, civic groups, state and regional crime prevention associations and concerned citizens.
This Years' National Night Out will take place on : Tuesday, August 3, 2021.
Delaware County Household Hazardous Waste (HHW) Collection
Delaware County sponsors four (4) Household Hazardous Waste (HHW) Collection Events each year. Typically, item labels that contain the words: HAZARDOUS – DANGER – WARNING – POISONOUS and TOXIC, indicate items that contain hazardous material. For more information see the Delaware County Household Hazrdous Waste (HHW) Program Website.
This year the events takes place on the following days:
Saturday, June 20, 2020
Saturday, September 12, 2020
Saturday, October 17, 2020
NOTE: The Saturday, May 2, 2020 HHW Waste event has been cancelled by the County.
Fire Prevention Week
The purpose of Fire Prevention Week is to bring awareness to the risk of death in case of a fire and provide educational resources to people of all ages, races, and socioeconomic status in order to keep everyone safe.
Since 1922, the NFPA has sponsored the public observance of Fire Prevention Week. In 1925, President Calvin Coolidge proclaimed Fire Prevention Week a national observance, making it the longest-running public health observance in our country. During Fire Prevention Week, children, adults, and teachers learn how to stay safe in case of a fire. Firefighters provide lifesaving public education in an effort to drastically decrease casualties caused by fires.
Fire Prevention Week is observed each year during the week of October 9th in commemoration of the Great Chicago Fire, which began on October 8, 1871, and caused devastating damage. This horrific conflagration killed more than 250 people, left 100,000 homeless, destroyed more than 17,400 structures, and burned more than 2,000 acres of land.
This Year Fire Prevention Week begins on : Sunday, October 4, 2020
Fire Prevention Parade
The Upper Darby Township Fire Prevention Parade is the culmination of Fire Prevention Week.
Historically the Parade has begun at Drexel Hill Middle School located at State Road and Shadeland Avenue. The Parade route goes down Kenwood Road to Bond Avenue and ultimately ends up at Aronimink School. It features local marching bands, elected officials, the Marine Corp. League Honor Guard as well as various fire trucks, from both Upper Darby and the surrounding communities.
Following the parade, the Upper Darby Fire Department will distribute fire prevention materials, assorted novelties for children and there will be demonstrations by members of the fire department. The demonstrations will include high angle rope rescue, vehicle extrication using the "JAWS OF LIFE". There will also be demonstrations on "Stop Drop and Roll". Firefighters will be available distributing fire prevention literature, fire safety tips and will be available to answer questions.
The program is for all ages. Please join us and help in keeping Upper Darby a fire safe community.