Comprehensive Plan 2018
In this section you will find a brief overview of the 2018 Comprehensive Plan, you may also download the full 137 page document to view it in its entirety.
- Guiding Principles




- Protect our neighborhoods through aggressive code enforcement




- Engage residents to provide neighborhood solutions




- Maximize redevelopment opportunities to reduce tax burden on residential property owners; capitalize on the transit system




- Promote Upper Darby to attract new businesses, developers, and residents
- Goals




- Reconnecting our neighborhoods to vibrant commercial districts




- Reconnect our neighborhoods to strong, more collaborative neighborhoods




- Reconnect our neighborhoods to the region through multi-modal transportation connections




- Reconnect our neighborhoods to safe, attractive, and sustainable environments
---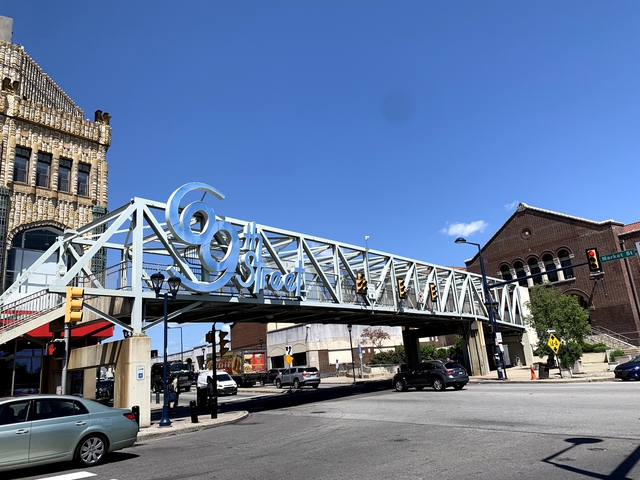 Location and Regional Settings
Upper Darby Township (Upper Darby) located in Delaware County, Pennsylvania within the Philadelphia-Camden-Wilmington (PA-NJ-DE) metropolitan area. Upper Darby continues to serve as the largest municipality in Delaware County with a population of 82,795. It is the 6th largest municipality in Pennsylvania; municipalities with populations greater than Upper Darby include the cities of Philadelphia (1,526,006), Pittsburgh (305,704), Allentown (118,032), Erie (101,786), and Reading (88,082).
Located adjacent to the City of Philadelphia, Upper Darby is surrounded by Haverford, Springfield, Ridley and Darby Townships, and the Boroughs of Clifton Heights, Aldan, Collingdale, Darby, Lansdowne, East Lansdown, Millbourne, and Yeadon.
As a bedroom community, Upper Darby offers unique walkable neighborhoods with diverse housing stock at price points which meet the needs of households of all income levels. Dense commercial activity is concentrated within the 69th Street Corridor commercial area; West Chester Pike, Baltimore Avenue and shopping centers such as Home Depot, Barclay Square, Pilgrim Gardens, Bond and Drexeline Shopping Centers. Smaller neighborhood retail is in other areas such as Garrett Road, Burmont Road, State Road, and Long Lane.
Upper Darby also serves as a key transportation hub for the Philadelphia-Camden-Wilmington metropolitan area. Along with the major transportation corridors, Upper Darby provides the following mass transit services:
69th Street Transportation Center, a multimodal hub served by:

Market-Frankford Line
Norristown High Speed Line
Media and Sharon Hill Trolley Lines (101, 102)
Bus Routes serving Philadelphia, Delaware, Montgomery, and Chester Counties

Media/Elwyn Line
SEPTA Bus Service
---
The Need for a Comprehensive Plan Update
The last Comprehensive Plan update was completed in 2004. The Township, through this planning process, intended to create a document that built upon the 2004 Comprehensive Plan, and provided an action plan to be followed throughout the next 10-year period. The 2016 action-oriented Comprehensive Plan provides all the requirements of the MPC and is consistent with general planning principles.
There have been several key changes since the 2004 Comprehensive Plan was adopted. Over the past 10-year period, the 69th Street commercial area is being transformed into a walkable, lively retail/entertainment district. SEPTA has committed to making huge investments into the 69th Street transportation center, and a major developer has been working with Township officials to dramatically revitalize this important commercial district. The Township has worked diligently to improve their levels of service to enhance the quality of life for residents, and improve the business environment to attract and retain business and industry.
---
Planning Process
The Upper Darby Comprehensive Plan Update was completed in three separate phases. Phase I, Understanding the Issues, included 7 individual neighborhood meetings to introduce the project and get a better understanding of the issues/opportunities from the residents' perspective. The neighborhood meetings were augmented with community surveys, a business owner focus group session, stakeholder interviews, and meetings with department staff. Phase II, Background Analysis, included an extensive review of Upper Darby's existing conditions including demographic trends, and in-depth review of neighborhood trends. This phase also included an analysis of land use, transportation, recreation and open space, community services, natural resources. Information obtained from this Phase was presented at a Saturday Open House held at the Upper Darby High School. Over 200 residents attended the event and provided input into each of these areas. Phase III, Creating the Vision and Action Plan, took all the information obtained in the first two phases to develop a vision for Upper Darby, and an implementable action plan.
The Planning process was guided by an Upper Darby Comprehensive Plan Steering Committee which represented a cross section of community members, school district officials, township officials, and township staff. The Planning Team worked with the Steering Committee to develop the following public outreach plan which consisted of the following:
Comprehensive Plan Steering Committee participated in the following activities:

Attended neighborhood/ward meetings
Met to discuss the results of the community surveys and the input received during the initial neighborhood meetings
Met to review and discuss the existing conditions report
Attended the community open house
Met to review and comment on the recommendations for the draft plan

Project Website provided links to community surveys, results from public outreach, existing conditions, and notices for public meetings.
Community survey asked a series of questions to engage the residents during the planning process.
Stakeholder interviews were conducted during the initial phase of the planning process.
Seven (7) individual neighborhood meetings held during the first phase of the planning process.
A Saturday Open House which provided information on existing conditions, and asked residents to complete surveys related to housing, neighborhood conditions, traffic, open space and recreation, and economic development.
Follow up Survey – Open House. For those who could not attend the Open House, the Planning Team posted a survey on the project website. Over 200 residents participated in this survey.