Upper Darby International Festival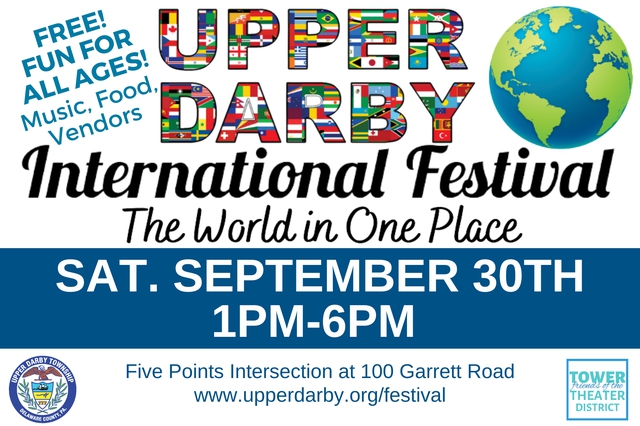 Upper Darby International Festival 2023
Saturday, September 30, 2023
1 p.m. to 6 p.m.
Mayor Barbarann Keffer invites you to join in celebrating The World in One Place at the 6th Annual Upper Darby International Festival on Saturday, September 30, 2023, from 1 pm to 6 pm. The International Festival is a signature event for Upper Darby, the sixth largest municipality in Pennsylvania, with a population of more than 85,000 people, representing dozens of cultures from around the world and with over 100 languages spoken. Thousands of local residents have attended previous years' Festivals, which showcased Upper Darby's rich cultural diversity through food, live performances, and activities for the whole family.  
The event will be held in the area around the 100 unit block of Garrett Road, including the Five Points intersection, which will be limited to pedestrian traffic to accommodate the Festival with food vendors, children's activities, and live music and cultural performances. Take a moment below to check out last year's festival where you'll see highlights from the program of live performances, music, dancing, food, community resources, the Kids Zone and the Parade of Flags in the video linked below. 
This year's Festival is once again presented by Upper Darby in partnership with the Tower Theater District. It will feature two stages for a roster of cultural performances, including dancing, martial arts, and music. We will also hold the traditional Parade of Flags, with flags representing the dozens of home countries of our residents. 
We are still accepting applications for food vendors, retail vendors, and community partners for this event. Sponsorship information and benefits are now available; please email festival@upperdarby.org for more details or to register.
Please be sure to follow our Facebook page at @UDIntlFestival  for more updates! 
Printable Flyer available HERE.