Chief Administrative Officer
Welcome from the Chief Administrative Officer
Welcome to the Upper Darby Township website, just one of the many methods used by the Township to communicate with our residents. We encourage communication and involvement and want to provide you as much information as early as possible. You'll be able to find us on social media, via Facebook and view all our livestreamed meetings on our YouTube channel. We also provide an area for signing up for our constant contact or for emergency notifications through the Delco Alert system. In addition, the Township provides a newsletter periodically throughout the year through the mail which can now also be viewed on the website. We also have a township calendar and current news page.
With 11 active boards, commissions, and committees, strong attendance at public meetings, and daily communications with staff and elected officials, we are benefited by an informed and involved community.
We are a community of diverse interests and backgrounds - but most are unanimous on one point: Upper Darby Township is truly a wonderful place in which to live, work and play. This website should encourage even greater involvement and understanding, helping us to be more responsive to all citizens.
Along with providing you with current information about Township government, services, and programs, you will find the latest press releases, meeting announcements, and other pertinent information available 24 hours a day. You may also use this website to submit resident requests through our the Mayor's digital request line.  Also provided here is an overview of the Township's organizational structure, scope of services, and frequently asked questions (FAQ).
We encourage you to use the main navigation bar above to explore our website to the fullest.
Sincerely,
Vincent. A. Rongione 
---
---
Office of the CAO
The Chief Administrative Officer (CAO) is a full time position responsible for administering the operation of the Township Departments. The Chief Administrative Officer serves as the deputy to the Mayor and shall supervise and direct such departments, agencies, and activities as delegated by the Mayor. Our commitment is to provide our residents, businesses, and visitors with a great place to live, work, dine, shop, and visit. The CAO is the official Right-to-Know officer and is responsible for responding to public requests for information as stipulated by the Pennsylvania Right to Know Law.
Guided by the policies and priorities of the Mayor, the CAO leads and brings together the efforts of all departments, ensuring that Upper Darby's programs and services meet the demands and expectations of the community. 
The CAO is directly responsible for:
Economic Development 
Liaison with other levels of government and agencies on matters affecting the Municipality
Township Finances
Human Resources
Insurance claims and other litigations 
Public Information 
Direct Reports to the CAO include:
Director of Finance 
Director of Public Works (Roads, Sewer, Water, Waste Water, Recreation and Facilities)
Fire Chief (Emergency Services)
Superintendent of Police 
Director of Community and Economic Development
Director of Administrative Services
Director of Parking Enforcement
---
---
Chief Administrative Officer
Vincent A. Rongione, Esq. has been the Chief Administrative Officer of Upper Darby, the sixth largest municipality in the State of Pennsylvania, since January 2020 under Mayor Keffer. He is dedicated to helping her administration revitalize, reform, and reinvest in Upper Darby and is a member of the Association for Pennsylvania Municipal Management. 
A Delaware County native, Vincent earned his Juris Doctorate from Villanova University School of Law, and spent nearly 2 years working in higher education before beginning joining the Keffer administration. Over his 20 year career in government, Vincent has worked as Director of Communications for a member of Congress, Development Director at the Philadelphia Parks Alliance, and Southeast Delegation Director for the Pennsylvania House of Representatives. 
He has greatly enjoyed his past two years in service to the Upper Darby Township and looks forward to continuing to help Upper Darby become widely known as, "The World in One Place." He currently resides in Upper Darby with his wife, his son, and cat, Ruby. 
---
Deputy CAO
Alison Dobbins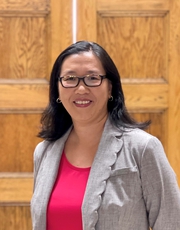 Alison Dobbins began working in Upper Darby in January of 2020, after serving on Mayor Keffer's transition team. Alison is excited about the future of Upper Darby and passionate about serving the community. She lives in the Garrettford section of Upper Darby and has lived there for over 15 years with her husband and three daughters.
Alison graduated from Drexel University and is proud to have brought the Drexel Co-op program to Upper Darby. Alison spent 4 years working for a State Representative in the Ridley area, and 10 years in higher education administration at Drexel University. Alison won the Drexel University President's Award in 2015 as part of the University Housing team and currently serves on the Delaware County Green Space Task Force. Alison serves as Upper Darby's representative to the Delaware County Consortium of Governments and is a member of the Association for Pennsylvania Municipal Management.